Data from Oxygen Finance shows that the 2021/22 Financial Year saw local authority corporate-related spending rise by 7.35% to reach £3.94Bn. Carbon emissions associated with this market also increased, growing by just under 6% to hit 689.88 Kt, writes Oxygen's Martin Holmes.
Council corporate-related spending tends to be largely made up of spend on recruitment and temp agencies, with the £2.21Bn spent on these services accounting for over 56% of the entire local authority corporate services market in 2021/22. It's an area of spend that has seen sustained growth over recent years, with the 2021/22 total representing an increase of 5.7% on the previous year and an increase over five years of over 40%. Total carbon emissions associated with council spend on these services also increased by 5.8% in 2021/22.
Oxygen's Insights Spend is constantly adding new data to provide the most up-to-date source of public sector spend data available and, as shown by the chart below, early indications are that 2022/23 will see council spend on recruitment and temp agencies increase again: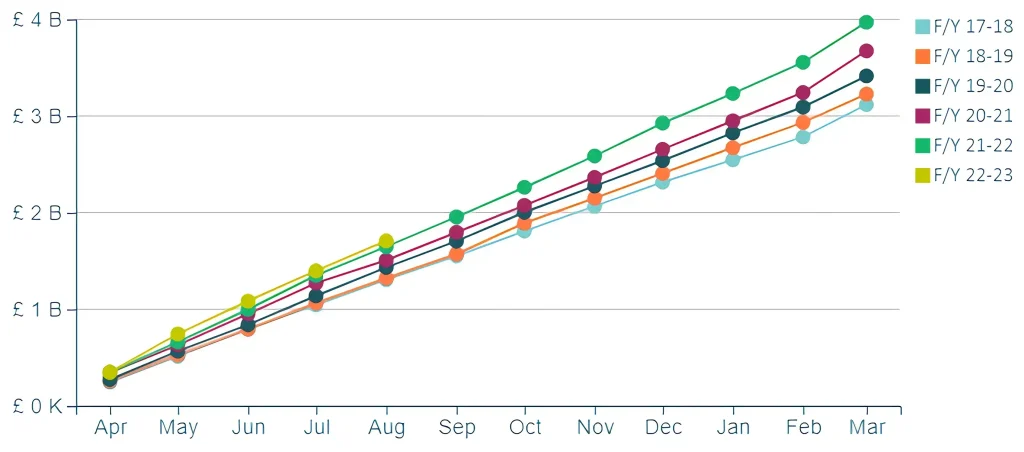 Matrix SCM dominating local authority recruitment spend
In much the same way as the local authority corporate services market is dominated by spend on recruitment and temp agencies, provision of these services to councils has been dominated by one supplier over recent years – Matrix SCM Ltd. A neutral vendor managed service provider "specialising in the procurement of temporary, interim, and permanent staffing", councils have spent over £1.7Bn with Matrix SCM over the last five financial years – almost twice the amount spent with the second largest provider over the same period – and the market leader saw its local authority earnings increase by 38% in 2021/22.
Although the £50.7M spent on recruitment and temp agencies in 2021/22 saw Birmingham City Council top the pile in terms of spenders, London Borough councils feature heavily, making up the rest of the top five spenders and seven of the top ten.
Oxygen's Insights Spend provides unrivalled detail on procurement spend, drawing on invoice data from over 1,000 government agencies and organisations. Insights Carbon allows local authorities and other public sector bodies to understand their Scope 3 carbon emissions, allowing them to prioritise their carbon reduction activities as they address the climate emergency.